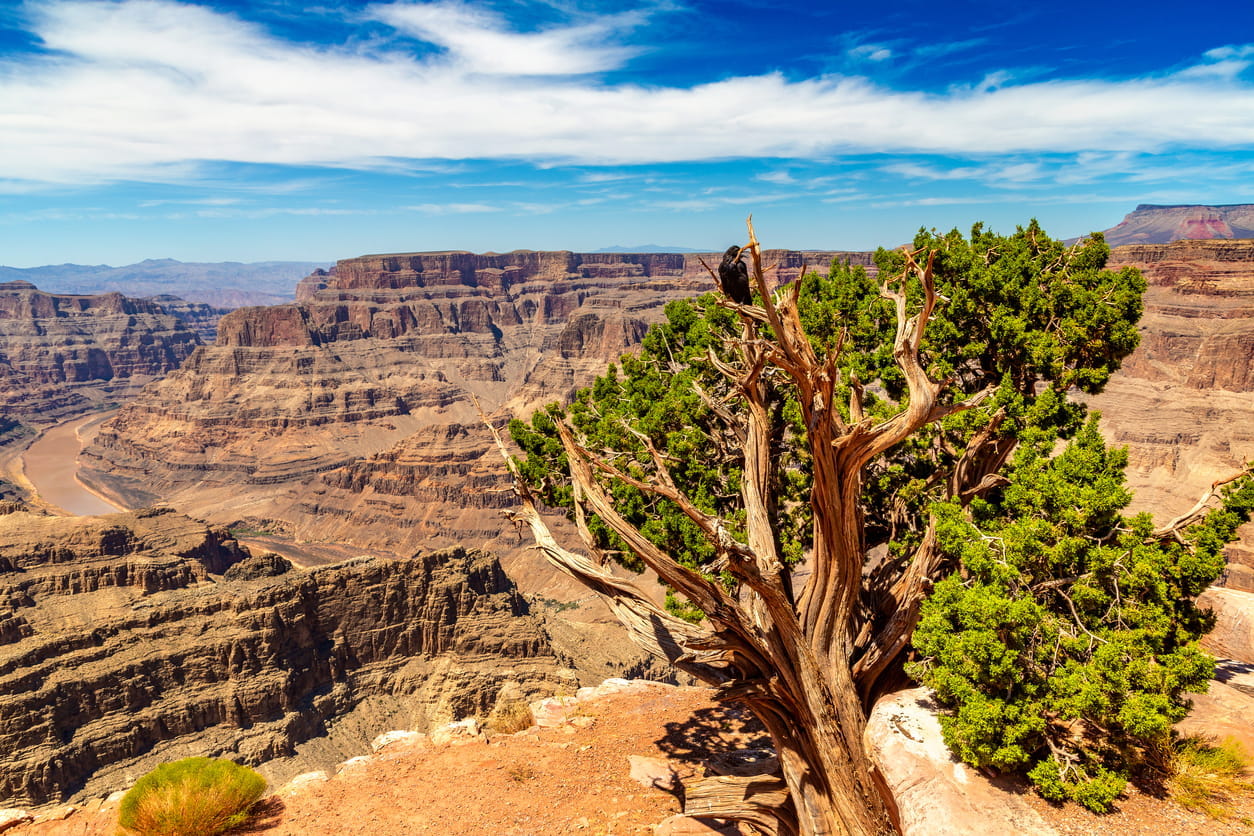 Embark on a thrilling adventure from Las Vegas to the Grand Canyon — one of the best things to do in Las Vegas — with Gray Line's world-renowned Blue Diamond service.
The west rim of the Grand Canyon offers guests unparalleled views of this natural wonder, while our world-class tour guides provide insight into the area's history and culture.
Our experienced driver will transport you to some of the most iconic sites in Las Vegas, including a photo stop at Hoover Dam, before heading west for your adventure. Enjoy spectacular desert scenery and see ancient Joshua Trees as we make our way into the heart of the canyon's rim. 
With four hours of exploration time and the freedom of our hop-on hop-off shuttle, you'll be whisked away to awe-inspiring views at Eagle Point and Guano Point, promising an unforgettable journey with the best in the business.
What can I expect to see on this tour?
Here are some highlights of this special tour:
Experience the majesty of Eagle Point, home to an impressive eagle-shaped rock formation. Dare to walk on the Skywalk, a glass bridge suspended 4,000 feet above the canyon floor (additional tickets required).

Enjoy Native American performances (subject to weather and schedule)

Venture to Guano Point for a moderate hike to the "Rock Pile" offering a panoramic view of the Colorado River

Travel through the ancient

Joshua Tree Forest

en route to the Hualapai Nation lands and the Grand Canyon
Amenities included in your tour
Enjoy convenient pick-up from most hotels on the Las Vegas Strip or downtown. Children up to 23 months ride for free. Explore Eagle Point and Guano Point. Savor a hot lunch served at the Grand Canyon, and immerse yourself in an exclusive 4-hour sightseeing experience at Grand Canyon West.
Where is the West Rim of the Grand Canyon?
The West Rim of the Grand Canyon is situated in the northwestern part of Arizona, within the boundaries of the
Hualapai Reservation
. This location is approximately 125 miles east of Las Vegas, making it a feasible day trip for those staying in the city.
To reach the West Rim, one would typically travel via Highway 93, which runs north-south through Nevada and Arizona. The specific access point to the West Rim is off East Diamond Bar Road in Peach Springs, Arizona.
The West Rim's setting is quite remote, surrounded by expansive landscapes that showcase the unique beauty of the American Southwest.
Where is the Hoover Dam?
The Hoover Dam is located on the border between the U.S. states of Nevada and Arizona. According to the
National Park Service
, it's the most widely visited dam in the world.
Specifically, it's situated in the Black Canyon of the
Colorado River
. This iconic structure serves as a major source of hydroelectric power and is a marvel of modern engineering. It's accessible via U.S. Route 93, making it a popular tour option for visitors staying in Las Vegas.
How far is the Grand Canyon from Las Vegas?
The distance from Las Vegas to the Grand Canyon depends on which part of the Grand Canyon you're planning to visit.
If you're heading to the West Rim, it's the closest to Las Vegas, approximately 128 miles away, which generally takes about two and a half hours to drive.
The South Rim of the Grand Canyon is about 280 miles from Las Vegas, and the drive typically takes around four and a half hours.
Please note that these are approximate distances and driving times, and actual travel times can vary depending on traffic conditions and the exact start and end points of your trip.
How far is the Hoover Dam from Las Vegas?
The Hoover Dam is approximately 35 to 40 miles southeast of Las Vegas, depending on your starting point in the city. This short distance makes visiting the Hoover Dam one of the most awesome things to do, Vegas-adjacent, when you're in town.
Considerations for booking your tour
Give 72-hour prior notice if you need a motor coach with lifts, subject to availability

All our motor coaches are DOT certified and can kneel to curb height

Service dogs with current paperwork and small oxygen tanks are allowed

Confirm all reservations 24 hours before the travel date

Cancellations must be made 24 hours in advance

Luggage, large backpacks, suitcases, briefcases, coolers, and alcohol are prohibited
Book your Grand Canyon West Rim bus tour today
WELCOME TO FRIENDS OF ARIZONA JOSHUA TREE FOREST WEB.
There are plenty of exciting things to do in Las Vegas, and signing up for tours to take from Las Vegas into the heart of nature is a great way to make the most of your time in Sin City. Gray Line's Grand Canyon West Rim Bus Tour with Hoover Dam Photo Stop has something for everyone!
Book your tour now
and create lasting memories of this beautiful and remote corner of the American Southwest.