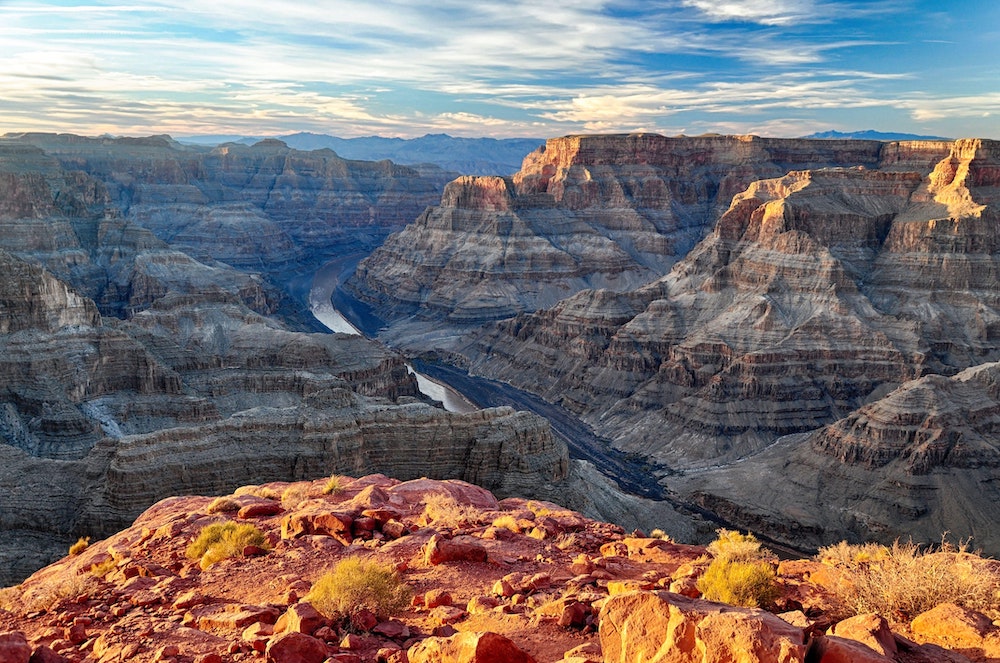 If you want to make the most of your trip, there are several ways you can experience this natural wonder. In Las Vegas, you have the option of booking a bus tour, helicopter tour, or a combination tour package to see the most breathtaking sights of the canyon.
Depending on how much time you have, your budget, and the type of experience you want, here are the best ways to see the Grand Canyon.
1. Grand Canyon Helicopter Tour From Las Vegas
An exciting scenic helicopter tour gives you stunning views of the Grand Canyon you can't get anywhere else! A helicopter adventure soaring over Grand Canyon National Park is an experience you won't soon forget and a great way to take in the majestic landscape.
You'll have the advantage of flying over the crowded tourist areas and get an unparalleled 360-degree aerial view of the canyon floor below. Also, you'll see things you may not be able to see from viewpoints on the ground while at the Grand Canyon.
Contact our team to learn more about our tour packages and book your helicopter tour of Grand Canyon with Gray Line today!
2. Grand Canyon Bus and Helicopter Tour Package
Another option is to book a tour package that includes a bus ride from Las Vegas and a helicopter ride over Grand Canyon West Rim or South Rim. You'll have plenty to see while driving, including the Hoover Dam, and may even stop at some lookout points for picture-perfect backdrops to capture your Grand Canyon trip.
If the bus tour takes Route 66, you'll be traveling on a world-famous road with opportunities to learn about its history on the way to the Grand Canyon. Also, your helicopter tour agency may even fly over parts of Las Vegas, including Red Rock Canyon and the Las Vegas Strip.
3. Hiking and Biking the Canyon Floor
Once you get to the Grand Canyon, there are countless trails for hiking, biking, mule rides, and more. These trails are designed for hikers of all activity levels, with some of them even paved for quick and easy hikes as you take in the stunning scenery.
However, you can find more challenging trails for experienced hikers that require endurance and physical ability, while some trails can be explored by mule riding.
4. Grand Canyon River Rafting
You can also choose rafting tours down the Colorado River for a thrilling Grand Canyon experience. This action-packed activity takes you on an adventure through the canyon over whitewater rapids and past waterfalls for a truly immersive way to see the canyon.
Grand Canyon rafting tours can range from a day on the river to a full two-week rafting journey through the entire canyon! This is a great opportunity for adventure-seekers and those who love a challenge.
5. Relaxing Colorado River Pontoon Ride
If whitewater rafting isn't quite your pace, you can still float down the Colorado River in a relaxing pontoon boat ride. Take in the picturesque sights of the ancient canyon walls and floor as an experienced guide shares historical facts about the area.
Depending on which tour you book, you may even have a chance to float through the famous Horseshoe Bend. This Grand Canyon experience is perfect for the whole family.
6. Skydiving at the Grand Canyon
One adrenaline-pumping way to see the Grand Canyon is to book a skydiving tour. There's really nothing quite like taking in the beautiful desert landscape while freefalling through the air at speeds of around 130 miles per hour! This exhilarating adventure involves spectacular views while working with an experienced tandem skydiving instructor.
Check out our Grand Canyon packages from Las Vegas and book your tour with Gray Line today!
How Far Is the Grand Canyon From Las Vegas?
The distance between Las Vegas and the Grand Canyon depends on which area you plan to visit. There are different rims of the Grand Canyon, each offering a unique view and experience.
South Rim – Grand Canyon South Rim is about 280 miles from the Las Vegas Strip. That will take you just under 4.5 hours by car or bus.
West Rim – Grand Canyon West is located on the Hualapai Reservation and is the closest rim to Las Vegas at just under 130 miles away. If you're driving, it will take you around 2.5 hours to get there.
North Rim – The Grand Canyon North Rim is around 270 miles from Las Vegas and will take you about as long as the South Rim – 4.5 hours driving. However, this rim is often closed depending on weather conditions. Make sure you check Grand Canyon hours prior to your visit.
How to Get to Grand Canyon From Las Vegas
There are different routes you can take to get from Las Vegas to the Grand Canyon. Here are some options:
Directions From Las Vegas to the South Rim: Take the I-15 S to I-215 E. Take exit 1 for I-515 S/US-93 S/US-95 S toward Boulder City. Then, merge onto I-11 S and continue on to US-93 S. Turn left to merge onto I-40 E towards Flagstaff/Phoenix. Then, take exit 165 towards AZ-64 N/Historic Route 66 and continue to S Entrance Road.
Direction From Las Vegas to the West Rim: Take the I-15 S to I-215 E. Take exit 1 for I-515 S/US-93 S/US-95 S toward Boulder City. Then, merge onto I-11 S and continue on to US-93 S. From there, turn left on Pierce Ferry Road, then right on Diamond Bar Road. The entrance will be on the left.
Directions From Las Vegas to the North Rim: Take I-15 N to RT 9 past St. George, UT. Then, take RT 59 to RT 389 to the junction with US 89A. Continue to RT 67 directly to the North Rim. (NOTE: The North Rim is closed during the winter.)
What Will You See During Your Grand Canyon Tour?
When visiting the Grand Canyon, there are so many things to see and do at each of the rims. Depending on which area you choose to experience, you'll get to take in the rim trails and breathtaking canyon floor from a different perspective.
No matter which tour you decide to book from Las Vegas, you will pass by beautiful Lake Mead and Hoover Dam on the way to your destination. You will also have a chance to see:
At the South Rim
Mather Point
Yavapai Point
Yavapai Museum of Geology
Yaki Point
Ooh Aah Point
South Kaibab Trail
Bright Angel Trail
Grand Canyon Visitors Center
Grand Canyon Village
At the West Rim
Grand Canyon Skywalk
Eagle Point
Guano Point
Hualapai Lodge
Native American cultural dancing
At the North Rim
North Rim Visitors Center
Grand Canyon Lodge
Bright Angel Point Trail
Cape Royal Trail
North Kaibab Trail
North Rim Campgrounds
RELATED: Is a Day Trip to the Grand Canyon Worth It?
Book Your Tour With Gray Line Las Vegas Today!
If you're interested in a Grand Canyon tour from Las Vegas to the West Rim or South Rim, contact our team to learn more about our packages! We offer helicopter Grand Canyon excursions, Grand Canyon day trips, Grand Canyon Jeep tours, and more.
Our experienced staff and tour guides make booking your excursion easy and enjoyable. Leave the planning to us and make your visit to the Grand Canyon a memory that will last a lifetime with Gray Line.