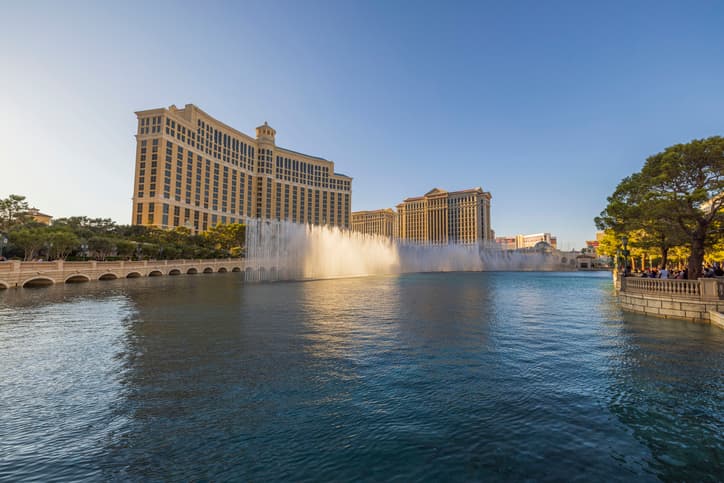 When it comes to things to do in Vegas for Valentine's Day, some may assume that Las Vegas is not romantic. However, this could not be further from the truth. The city is brimming with romantic restaurants, dazzling lights, sexy vibes, and all the fun things to do for Valentine's Day in Las Vegas. Spending February 14th in Sin City may just become a new lovers' tradition. Check out some of the best things to do on Valentine's Day in Las Vegas.
Things to do in Las Vegas on Valentine's Day
Start the day off with a sunrise hot air balloon ride
The spectacular scenery of the Mojave Desert is sure to get you feeling romantic. Enjoy the changing hues of the landscape as the sun rises. This is a must-have experience that includes complimentary champagne and transportation to the flight spot. To book your flight, check out their website.
Visit Paris Las Vegas-style
Paris is one of the most romantic places to celebrate love in Las Vegas. Travel 460 feet up the Eiffel Tower replica for breathtaking views of the Las Vegas Strip. By booking the Eiffel Tower experience through Gray Line, you can skip the line and spend even more precious time with your love taking in the sights of the city.
Enjoy a romantic dinner at Barry's Downtown Prime
Voted "best date night spot" in 2022, dinner at Barry's Downtown Prime is ideal for private dining with a romantic atmosphere. Enjoy the scrumptious Valentine's Day menu that includes multiple cuts of steak, a chilled shellfish platter, caviar, lobster tail, and many more delicacies. For dessert, you can choose red velvet cheesecake or warm toffee butter cake.
Take a stroll on Fremont Street
With great restaurants, bars, casinos, and the Mob Museum, you're sure to have a good time with your Valentine on Fremont Street. You can even declare your love publicly with a special personalized Valentine's Day message to be displayed on the legendary Viva Vision screen above the street.
Enjoy French cuisine and fine wine at the Oh La La French Bistro
For a romantic ambiance and fabulous French cuisine, make a reservation at the Oh La La French Bistro. Try the brie burger or French classics such as beef tartare, Sole Meunière, duck magret, escargots, and more. Of course, you must also share a crème brûlée for dessert.
Take a gondola ride at the Venetian
There's not a lot more romantic than cuddling up in a gondola with your Valentine while being serenaded by a gondolier. Enjoy either an indoor or an outdoor experience, both offering unique and romantic scenery during your gondola ride.
Have dinner at Hugo's Cellar
Another romantic classic when it comes to Las Vegas restaurants, Hugo's Cellar has the perfect atmosphere to spark romance and a delicious menu of steak and seafood favorites. Here, ladies will be greeted with a rose, you'll enjoy complimentary fruit dipped in chocolate with whipped cream, and your appetizers, salads, and dessert (bananas foster or cherries jubilee) will be prepared right in front of you.
See "Rouge" at the Strat
This sexy show incorporates comedy, burlesque, pole dancing, acrobatics, and dancing to bring this unforgettable experience to life. Cast members of both genders will perform, entice, and awe. Check out theirwebsite to get tickets.
Take a romantic walk at "Rose Park"
For those desiring a nice walk out in nature, theDr. Harry B. Johnson Rose Garden in the southern highlands is a great option. Gorgeous scenery and a rose garden with elegant stone benches make this the ideal location to profess your love for one another.
Visit a romance-inspiring exhibit
Whether you're feeling sexy and wish to visit the Erotic Heritage Museum or you choose the classic Titanic: The Artifact Exhibit, you're sure to feel more lovey-dovey seeing it with your Valentine.
At the Erotic Heritage Museum, you will see permanent and temporary exhibits devoted to the freedom of sexual expression and education while enjoying exhibits that explore the history and art of erotica.
Visiting the Titanic exhibit will remind you of the steamy romance between Jack and Rose in the 1997 movie depicting the tragedy while getting to see 250 authentic artifacts recovered from the actual wreckage and recreations of the most famous rooms aboard the ship.
Grand Canyon Helicopter Tour
When visiting Las Vegas, you must make the time to see the Grand Canyon. Seeing one of the most awe-inspiring sites in the world with your lover is a must-have experience. By booking this particular tour of the Grand Canyon, you will get to walk the notorious "skywalk bridge" observation deck, take a helicopter tour to the bottom of the Grand Canyon, take a pontoon ride on the glorious Colorado River, make a photo stop at the Hoover Dam, take a drive through the historic Joshua Tree Forest, and enjoy lunch at one of the two cafés conveniently located at the canyon.
This package includes pick-up in Las Vegas, a knowledgeable tour guide, and a native cultural performance (weather permitting). For the most comfortable experience, be sure to wear light layers and comfortable, sturdy shoes. Also, don't forget to bring your own water bottle(s), sunblock, sunglasses, and, of course, your camera.
The Best Tours in Las Vegas
Contrary to popular belief, visiting Las Vegas isn't all about gambling. It can also be about having a truly exhilarating and romantic Valentine's Day with your special someone. By getting your tickets and booking tours through Gray Line, you can find the best places to visit while getting the best prices on tickets. You don't have to spend a fortune to show someone you love them.